OR MAIL CHECKS TO
ORA Trails
C/O Smith's Bike Shop
125 7th Street North
La Crosse WI 54601
The amazing new Gateway Trail System on Grandad Bluff is just the beginning of helping La Crosse families return to the woods and carry on a more healthy, higher quality of life. ORA Trails will build more trails close to where we live, work, and play. More trails will keep kids active, healthy, and engaged in the outdoors with family and friends, offering a higher quality of life. More trails will also provide a healthy way for families to live and traverse our magnificent rivers and bluffs.
ORA Trails will expand our trail system outward from the Gateway Trail System to the South in Shelby and Onalaska to the North. We'll enhance, repair, and re-energize our existing trails and continue to keep expansion at the top of our to-do list. ORA Trails exists as an organization to keep our community happy, healthy and resilient by providing access to equitable and sustainable outdoor recreation experiences. If you want the same for our neighbors, consider a contribution. Contributions are tax-deductible.
When considering a donation…
Charity Matches – Does your employer offer a charitable giving match? Some companies will match a monetary donation dollar-for-dollar, essentially doubling your donation instantly. Consider reaching out to your HR department to submit a match request.
Monthly Giving – Did you know you can make an even bigger impact by scheduling recurring bank transfers on a monthly or yearly basis?
FUNdraising – Hosting a fundraiser is a fun way to bring people together and make an impact. Consider ORA Trails as the recipient for your next community fundraiser.
Volunteer – Sometimes it's our sweat equity that we have more of to give. ORA Trails has many weekly, monthly, and annual volunteer efforts to choose from that will get you outdoors with other community members for some fun in the dirt!
Contributions are tax-deductible.
Who is ORA? YOU are ORA. WE are ORA.
Show your support by putting a sign in your yard. Stop by Smith's Bike Shop starting Wednesday, June 8 to claims yours. We only have 100 available, so don't wait.
Want to make a donation to cover the cost of the sign or pay it forward for your neighbor? Donate here.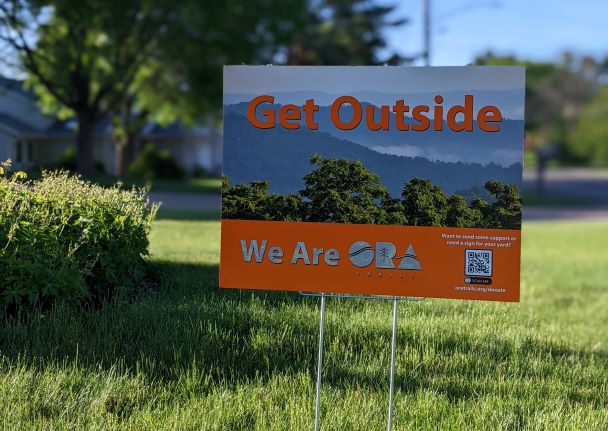 Subscribe to
ORA Trails
Find out the latest trail news, announcements, events and more!
Subscribe Here