TRAILS FOR EVERYONE
ORA Trails is dedicated to building happy, healthy, and resilient communities by providing access to equitable and sustainable outdoor recreation experiences.
This message is only visible to admins.
Problem displaying Facebook posts.
Click to show error
Error: No posts available for this Facebook ID
Women's Mountain Bike Clinic
ORA trails hosted our first Women's Mountain Bike Clinic and it was a huge success despite the weather. The clinic consisted of both beginner and intermediate sessions. Our women mountain biking community is amazing. We can't wait to invite Angela, Heather, and Matt/Brooks Adventures back for another clinic.
Check out Angela and Heather's YouTube channel 🡻
The Mountain Bike Chicks
Hixon4est RUD Run
We held our first Run Until Done (RUD) run. We had a great time, even though the weather didn't cooperate with us.
ORA Trail Stories
Our first of a video series, ORA Trail Stories, by Keachen Abing. In the premier, Dobby Englebert shares her passion for our local trails. Dobby is a mom, grandmother, is active in Pickleball and has always been a trail user. The recent purchase of an ebike has opened up a whole new world of adventure! You will often see Dobby exploring the Gateway Trails in La Crosse, Wisconsin. When you do, introduce yourself! She is truly an ambassador for our community!
"These are everyone's trails. So use them! I love these trails."
-Dobby
Eagle Battalion ROTC Students Build New Bridge on Oak Trail
Thanks to the Eagle Battalion ROTC students for an awesome job building a bridge on Oak trail. They hauled 300 pounds of wood half a mile down the trail and built the bridge in just over an hour. Great example of teamwork.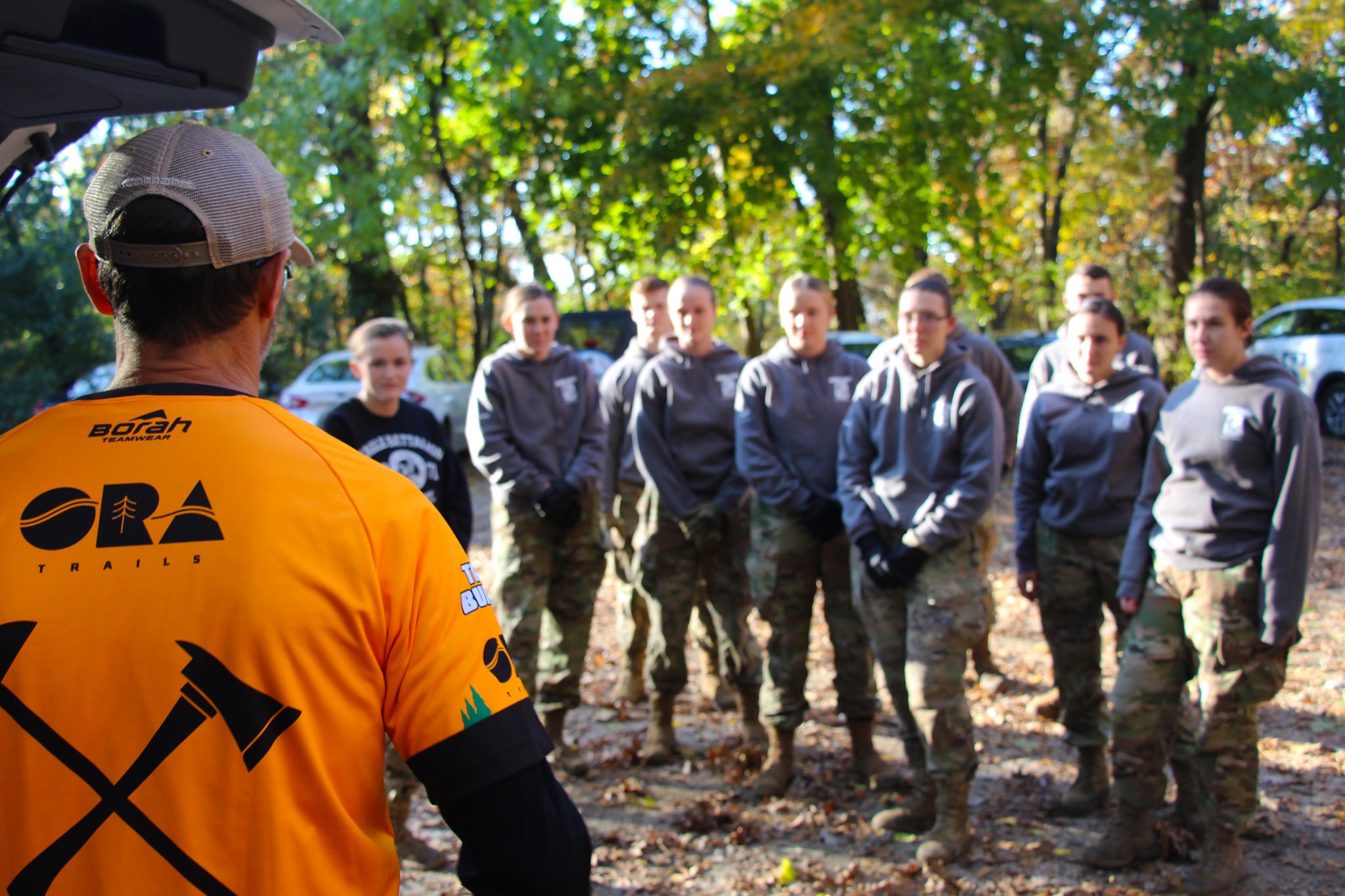 Chad Erickson
Connector Trail
The Chad Erickson Connector Trail runs from Chad Erickson Park to State Road Elementary School. The trail has been in the works for two years and was completed in September thanks to the work of the parents of State Road Elementary School students who created the La Crosse Community Forest. ORA Trails worked with the La Crosse Community Forest to raise $100,000 for the project.
This trail connects young and old with nature and the outdoors and was made possible because of the collaboration between ORA Trails, the La Crosse Community Forest, the City of La Crosse – Parks, Recreation, La Crosse County, and State Road Elementary PTO.
Upper Hixon Trails
ORA Trails, in cooperation with the City of La Crosse Parks and Recreation Department, hired Rock Solid Trail Contracting to repair the Upper Hixon mountain bike trails that were in desperate need of rehab after torrential rains last summer. On Wednesday, July 25th we hosted a Grand Opening and ribbon cutting for the new trails. Watch our video for a preview of the new trails.
Lueth Park Bicycle Playground
In cooperation with the City of La Crosse, ORA Trails led the efforts for the Lueth Park Revitalization project which includes improved neighborhood access, repairing the skatepark, removing an undersized and underused baseball field, and installing a bicycle playground. We also installed a hard surface pump track that compliments the other improvements and rounds out the project. This park serves as an activity hub and a highlight of the neighborhood, fostering pride and building community.
From Our Community
Testimonials
Keachen & Jill Abing

"The trails of the La Crosse area are a true blessing for our entire family. The natural beauty of our area serves as an escape whether for trail running, family time at the pump track, or hitting up some dirt on our bikes!"
Gabe & Annie Berendes

"One of the main reasons we chose to live where we do is the fact that we can be on the bike trails within five blocks of our home year round. Our whole family (boys 7 & 9) is able to engage the trails in a way that's unique to each of their levels. This allows us all to love and grow in the sport of mountain biking that is equally challenging and rewarding."
Dan & Jennie Wateski

"On a nice night, we just head to the trails and use them as family time where we can ride and be together. We love that it's just a short drive from where we live and we can be riding on the trails instead of worrying about traffic on the streets. During the school's mountain biking season, we are on the trails daily, even if using just Vista for a quick ride or workout."
Subscribe to ORA Trails
Find out the latest trail news, announcements, events and more!
Subscribe Here