La Crosse's First Ever
Hixon 4est RUD Run
RUD stands for "run until done" run. Ultimately, this means it is a challenge by choice! YOU choose how far you (or your team) want to run in 24 hours.
The Hixon 4est RUD is a 24 hour event. Runners start at 10 a.m. on Saturday August 6th. One lap is 4.15 miles long. Every hour, on the hour, a lap must be completed to stay in the event.
The 24 hour RUD can be completed as an individual or teams of any size up to eight runners. The choice is yours! What's the experience you want to have? What's your personal challenge?
The 4.15 mile loop is located in Upper Hixon Forest. On this trail run you will find a diversity of rolling prairie to technical single track with a total elevation change of 424 feet.
FREE!!! This is a donation based experience and challenge! ORA Trails and Hixon 4est RUD Run's main goal is to give trail runners a unique experience on our amazing trails. Teams and individuals can choose to donate to our event and ORA Trails if they chose, but is not required. Please feel free to donate below or in during registration!
WHEN:  Saturday August 6, 2022
First Lap Starts at 10:00 a.m.
Each lap thereafter will start every hour on the hour (2nd lap 11:00 a.m., 3rd lap 12:00 p.m., 4th lap 1:00 p.m. and on and on…) until there is only ONE RUNNER/TEAM STANDING or we get to 24 hours! Remember, YOU get to choose how far your team (or you as an individual) want to run! Run until you're done!
711 County Rd FA, La Crosse, WI 54601
Race parking is across the street from the National Weather Service and the Upper Hixon Parking lot. To keep everyone safe, the trailhead lot will be closed to vehicles on race day.
Start/Finish tent will be in the main trailhead parking lot.
Tent sites for teams, and smaller spots for individual participants or runners, are available for along the driveway to the trailhead parking lot. These will be first come, first served based on selected preference in the registration.
NOTHING! The goal of this event is not to make money, but to provide an awesome experience on our amazing trails! However, if you would like to make a donation, we would certainly appreciate it. Donations would go to our trail fund and helping to make the Hixon 4est RUD Run better and better each year.
No race day registration. For our prep work and to make sure the experience is best for everyone involved, we ask that you register by August 1st.
Any donations are not refundable.  Please consider this prior to registering.
The RUD Run (Run Until Done) is a very unique experience for runners! We welcome runners of all ability and experience level. We believe this event allows the opportunity for runners to experience our trails, a variety of the unique features, and to push themselves in a unique format. The run begins at 10:00 a.m. and each runner (either individual or one runner for each team) will have up to ONE HOUR to complete their 4.15 mile loop. If a runner fails to complete the loop within the hour, they are eliminated from the event. If a runner finishes the loop prior to the one hour time limit, they have the remaining time to rest and recoup before starting again on the next hour. Each runner's pace is their choice, but they must be back at the starting line when the next lap begins on the hour. If one runner from a team (any size team) fails to complete the lap in an hour, that entire team is disqualified.
QUESTIONS OR CONCERNS: Please CONTACT US here if you have unanswered questions or need clarification on anything! Most importantly, we want everyone to have an awesome experience on our trails and the opportunity to build our trail community together.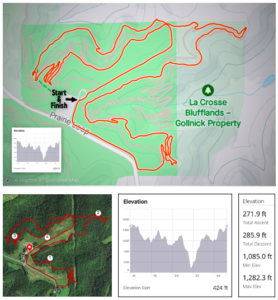 ​
The race is embodies some of the classic trails in Upper Hixon! Our scenic loop blends some wider prairie trails with technical single track. From roots, grade reversals, short punchy climbs, rocky terrain to gradual switchbacks, you'll get a taste of what La Crosse's trail system has to offer. We plan on alternating the direction of travel each lap! This is sure to keep it fresh and make each lap feel brand new again.
The course will be marked well at all intersections.  The course is contained within Upper Hixon trails, so no road crossings will occur.  The trail will be marked with colored flagging, spray chalk on the ground and we will have reflective tape for our darker hours.
Headlamps will be REQUIRED when darkness falls. Plan for sunset around 8:21 p.m. and sunrise around 5:59 a.m.
Packet pickup will be from 5:00 p.m. to 7:00 p.m. Friday, August 5th in the Upper Hixon trailhead parking lot.  If you cannot make the packet pick up on Friday night, you can pick up your packet on Saturday morning before the race.
Race course briefing will occur 15 minutes before the race.  Arrive at the start line early for the briefing.   RACES MUST START ON TIME AT 10:00 a.m.
Who can run the longest?! How many total laps and miles will be completed?! What team will have the fastest average time?!
All good and fun questions, but for this run here, there's really just one prize: For anyone who can complete 24 laps, or 100 miles, you will EARN a humble, yet coveted, Hixon 4est Belt Buckle. Our goal here is to build community, share our amazing trails, and support each other to do cool stuff!!! For each participant, their personal challenge and experience will look different. Let's celebrate everyone's success! Other than that, no prizes. Sorry, not sorry. Well, almost no prizes…
There will be some quirky prize offerings for the runners of each lap completed throughout the race. As our sponsor lists grows, we will update below.​And remember, the race itself will continue as long as it takes to determine the last runner on the course.